2010 Conference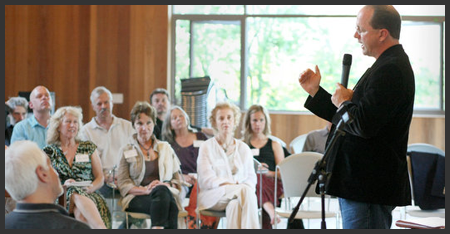 The Third Annual ITP International conference, The Intention of the Universe: Our Evolutionary Destiny, featured Jeffrey Kripal, Professor of Religious Studies at Rice University, and Michael Murphy, co-founder of Esalen and Integral Transformative Practice.
Jeff intrigued and inspired us by his presentations based on his recent book, Authors of the Impossible, followed by lively Q&A sessions facilitated by Michael Murphy.
Jeff presented three compelling themes:
the story of evolution and its integral nature has its roots in both America and Europe that go back 200-plus years
we are all writing our life stories and can create our futures
popular culture is an early warning system for arising human capacities
New for the conference this year was the Evolution Café. Making the conference truly "integral," the Evolution Café supported participants in the exploration of their own evolutionary opportunities to serve the greater good.
At the end of the second day, in addition to the wonderful music of the Tim Cleary Jazz Trio, accomplished jazz singer Annie Ellicott sang a heart-warming version of The Waters of March, accompanied by concert pianist Amy Cottingham (both from ITP Tulsa!).
Attendees at the conference came from all over the U.S., including Ohio, Oklahoma, Texas and Washington. The inspiring and loving presence of all who attended made this 3rd Annual ITPI conference truly special and worthwhile. If being with people like this for an amazing two days is the Intention of the Universe, then we are truly blessed.