About GKM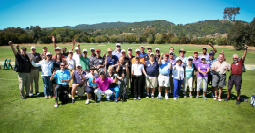 What's it all about?
Michael Murphy's Golf in the Kingdom golf event (GKM) offers golfers a chance to give back to the world while doing something that they love–play golf!
Designed as a fundraising event for ITP International (ITPI), the non profit that stewards Michael Murphy and George Leonard's pioneering program, Integral Transformative Practice®, GKM will be lots of fun for golfers—duffer and pros—and invaluable for ITPI.

Integral Transformative Practice
Created as a long-term, sustainable practice that integrates and transforms body, mind, heart and soul, ITP helps cultivate high-performance capacity, skillful communications and creative problem solving. Other benefits include increased vitality, clear decision-making and resiliency under pressure.
ITPI offers a wide range of programs, coaching and consulting services for individuals, groups and businesses in the U.S. and around the world.
September 27, 2017
Schedule
| | |
| --- | --- |
| 10:00 - 10:30 am | Check-in & Welcome |
| 10:30 - 10:45 am | Event Overview & Demo |
| 10:45 - 11:45 pm | GKM Mini Clinic & Practice |
| 12:00 - 5:00 pm | Shotgun Start and Play |
| 5:00 - 7:30 pm | Reception, Awards Ceremony, Live Auction & Banquet |
Peacock Gap Golf Club
333 Biscayne Drive San Rafael, CA
Click
here
for directions.

How the Game is Played
Golfers play 18 holes in 4-5 person scrambles. The best of the tee shots are selected and all take their second shots from that spot. This continues with each shot until a ball goes into the hole. In a special ITP modification, each golfer gets to play up to 2 balls on every shot!

At designated Mystery Holes, golfers can expect the unexpected.

Hole-In-One contest with $25,000 cash prize.

Carts, range balls and box lunches are provided for golfers.

Prizes will be awarded for the longest drive, closest to the pin and whacky things like best hacker, most integral player and strangest shot.