Conference 2011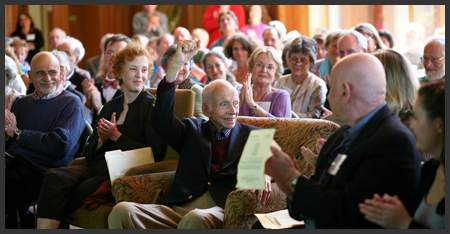 The Fourth Annual ITP International gathering, ITP and the Evolution of the Soul, featured Michael Murphy discussing the grandest adventure of all—the infinite dance of consciousness and matter, a dance in which we humans are privileged to knowingly participate.
Michael's inquiry into the notion of co-creation brings into relief the paradox that evolution itself is both map and destination—simultaneously intimate and unknowable, foundational and aspirational. Our challenge—and our opportunity—is to attune to the dance with ever-increasing acuity, thereby assisting evolution toward harmonious organization and ever-greater complexity. Listen to Michael's presentations.
The integral event offered an experience of the four pillars of ITPI—theory, practice, community and research. The morning began with 70 participants enjoying the Kata led by Barry Robbins, followed by Michael's talk. In small groups, participants explored the way the senses interact with the soul: How do we experience the soul? How has the soul made itself known in our lives since childhood?
The afternoon presentation began with a session of Leonard Energy Training (LET) led by ITP Mastery teacher Charlotte Hatch, followed by a continuation of the invigorating discussion of the morning.
In the late afternoon, Cassandra Vieten, Director of Research at the Institute of Noetic Sciences (IONS), concluded the day's formal activities with an announcement of research results, conducted jointly between IONS and ITPI, investigating the benefits of Integral Transformative Practice. Participants in the study were drawn from the ITP community, many of whom were in attendance. IONS has submitted the study for publication to peer-review journals. Read a summary of the findings. Listen to Cassandra's presentation.
As the formal presentation gave way to celebration, participants celebrated with food, music, dancing, lively conversation, hugs and laughter. Musical offerings by Tim Cleary's Jazz Trio set the tone. Evening breezes graced the dance floor as jazz singer Annie Ellicott and concert pianist Amy Cottingham, both from ITP Tulsa, performed their own songs, delighting everyone with their unique style and musical range.